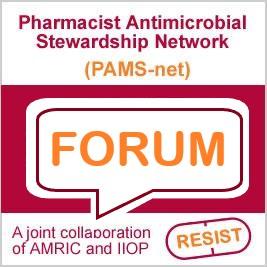 Are you interested in learning more about responsible antimicrobial use? Optimising antimicrobial use in all patients reduces patient harms and it limits the development of antimicrobial resistance so that antimicrobials are kept effective for future generations.
Would you like to join a network of pharmacists from across all settings to share knowledge and learning about antimicrobials?
HSE Antimicrobial Resistance and Infection Control (AMRIC) team and IIOP have collaborated to develop a Pharmacist Antimicrobial Stewardship Network (PAMS-net). The PAMS-net launched on the 15th August 2022. The network aims to support pharmacists across all sectors to work towards the common goal of promoting responsible use of antimicrobials in all patients and limiting the emergence of antimicrobial resistance.
Antimicrobial stewardship (AMS) can encompass any action that promotes responsible use of antimicrobials. Some examples of antimicrobial stewardship (AMS) in pharmacy practice include: checking if antibiotic prescriptions align with antibiotic prescribing guidelines; recognising when an antibiotic agent, dose or duration is not in line with guidelines and highlighting this to the prescriber; providing advice when a patient presents with a self-limiting or viral infection. For more information on AMS visit https://bit.ly/3o3vEyh
All pharmacists with an interest in responsible antimicrobial use are welcome to join this network. The network aims to bring together pharmacists from a diverse range of settings including community, hospital, education, researchers, Outpatient Parenteral Antimicrobial Therapy (OPAT) services, other HSE and national bodies. The network welcomes pharmacists from all professional backgrounds, those who are considered experienced antimicrobial pharmacists and those who wish to further their knowledge. Pharmacists working in all sectors play a pivotal role in antimicrobial stewardship (AMS) due to their expertise in medicines and accessibility to patients.
Both Ireland's second One Health National Action Plan on Antimicrobial Resistance (iNAP2) and HSE AMRIC Action plan 2022-2025 identify pharmacists as a key stakeholder and highlight the need to maximise engagement of pharmacists with antimicrobial stewardship (AMS).
The functions of the network are:
• To share knowledge, information, learning and experience in AMS, both across and within sectors
• To provide a discussion forum for members
• To share AMS work and foster creativity and innovation in AMS
• To assist in the provision of CPD for pharmacists with an interest in AMS The PAMS-net webpage is hosted on the IIOP website.
It provides a discussion forum and resources section. Members receive updates through the network and network events are organised regularly. To become a member of the network go to the "Courses and Events" page on the IIOP website and select the "Forum" tab.
To learn more about antimicrobial stewardship and view national antibiotic prescribing guidelines and resources visit antibioticprescribing.ie