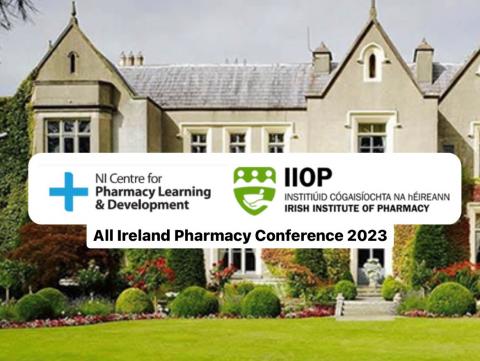 Save the Date: 10th All Ireland Pharmacy Conference
The 10th All Ireland Pharmacy Conference (AIPC) will be held at Ballymascanlon House Hotel, Dundalk on 6th and 7th November 2023. The theme for this year's conference is 'Creating Momentum & Building Capacity'
About the Conference
This conference is jointly coordinated by the Northern Ireland Centre for Pharmacy Learning and Development and the Irish Institute of Pharmacy. Its focus is to share good practice in pharmaceutical care and practice development across the primary and secondary care sectors.
Pharmacists, technicians and qualified assistants are encouraged to exchange ideas for pharmaceutical service development in the Republic of Ireland and Northern Ireland.
Conference dates and Registration
On the evening of Monday 6th November, the conference dinner will take place at 8.00pm and provides an opportunity to network with colleagues. The main conference proceedings will start at 9.30am on Tuesday 7th November and will involve parallel oral sessions and poster presentations.
Call for Abstracts
The 2023 conference theme is 'Creating Momentum & Building Capacity'. Abstracts are invited for posters and oral presentations that deal with a broad range of pharmacy practice, including (but not limited to) the following topics:
Education

Workforce

Enhancing Practice

Leadership

Policy
Abstracts can be submitted here, and further information can be found on the All Ireland Pharmacy Conference website.
Posters will be on display throughout the conference, with dedicated time for viewing and discussion during the day. Oral presentations should be 10 minutes in duration with an additional 5 minutes for audience questions.  You are welcome to submit multiple abstracts for consideration.
Applicants should clearly indicate the corresponding and presenting author(s) and whether they wish their abstract to be considered for poster or oral presentation.  The closing date for receipt of abstracts is Wednesday 31st May 2023.
The organising bodies will cover the conference costs (i.e the day delegate fee & accommodation) for the main presenter of each oral presentation. For those presenting posters, the day delegate fee will be covered.