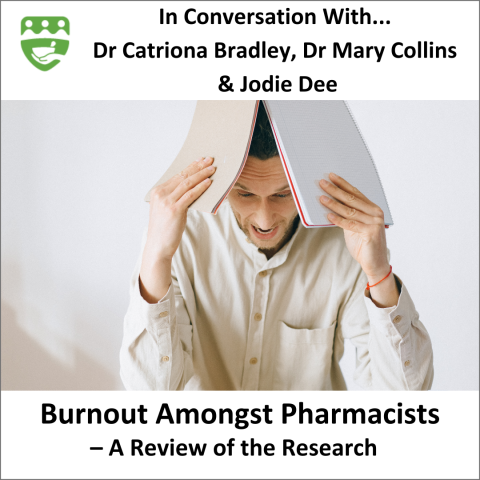 Slides From the Presentation: Slides
Speakers: 
Dr. Catriona Bradley MPSI, Executive Director, IIOP 
Dr. Mary Collins Chartered Psychologist & Professional Executive Coach, RCSI Centre for Positive Health Sciences  
Jodie Dee MPSI, Community Pharmacist 
Summary: 
In this webinar, Dr. Catriona Bradley, Dr. Mary Collins and Jodie Dee discuss the issue of burnout among pharmacists and the factors contributing to it. They share the results of studies showing the prevalence of burnout in pharmacists, with risk factors including long working hours, high workload, and low social support. They also discuss the importance of creating a positive workplace culture and developing personal strategies to combat burnout, such as using the Maslach inventory and developing a personal toolkit. The panel emphasises the need to address burnout on all levels, including personal, organisational, and systematic levels, to support the well-being of pharmacists.  
The speakers stress the importance of setting boundaries and practicing self-care to prevent burnout among pharmacists. They warn that prioritising patients' needs over pharmacists' well-being risks experiencing burnout and suggest a positive work environment and being mindful of emotional contagion as solutions. They suggest reflecting on what boundaries can be set to support self-care and team collaboration to promote healthier workspaces.