Upcoming PIER Career Events
Upcoming PIER Career Events
PIER (Pharmacists in Industry, Education and Regulatory) will hold a number of webinars in the coming weeks. Details of all events posted here. 
PIER Webinar on 'Falsified Medicines Directive' on Tuesday 14th March 2017 at 4pm
The 'Falsified Medicines Directive' webinar with Anne Hayes (HPRA) and Professor Claude Farrugia (EIPG & University of Malta), Tuesday 14th March 2017 @ 4pm.
PIER Industry Career Evening: RCSI College Hall, Dublin on Wednesday 22nd February 2017
PIER in collaboration with RCSI Career Development Manager Fionnuala Rahilly is organising an industry careers evening on Wed 22nd February 2017 (from 6.30pm).
For further details, see PIER career evening flyer Feb 2017 final.
PIER Career Focus Webinar on 'Medical Affairs' on Thursday 16th February 2017 @ 7.30pm
During 2017, PIER will organise a series of career information webinars highlighting many of the most popular careers that pharmacists hold in industry.
The first of this series is on 'Medical Affairs' with Natasha Littleton (Bayer Healthcare Head Office, Berlin) on Thursday 16th February 2017 at 7.30pm (GMT). Please email education@pier.ie to register for this event.
For further information, see PIER Medical Webinar Natasha Littleton_16th Feb 2017.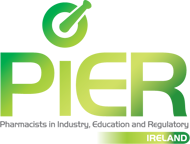 Image: