RCSI MyHealth Positive Health Series - The Science of Happiness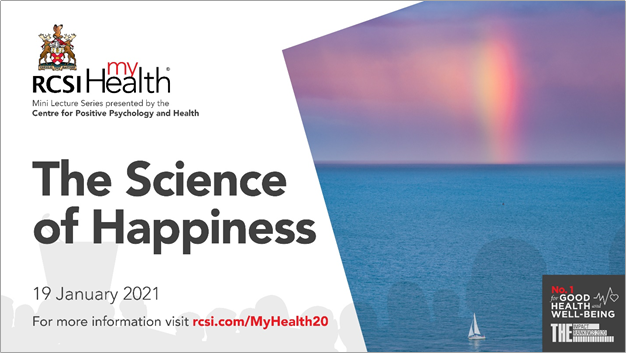 As part of the RCSI MyHealth Series, the RCSI Centre for Positive Psychology and Health are delighted to host a three-part Positive Health mini-series which will bring together leading experts to address positive health across a range of topics. This three-part series is aimed at improving health and well-being. 
The first event will focus on 'The Science of Happiness'. A panel of RCSI experts will look at how to define and understand happiness as well as examine research that shows us how to increase our own happiness and that of others. 
It will be available to watch on Tuesday, 19 January on the RCSI YouTube channel and via the website page below. The recording will also be available to watch back afterwards on the RCSI YouTube channel. 
For more information and to register your interest, please visit www.rcsi.com/MyHealth20
Image: