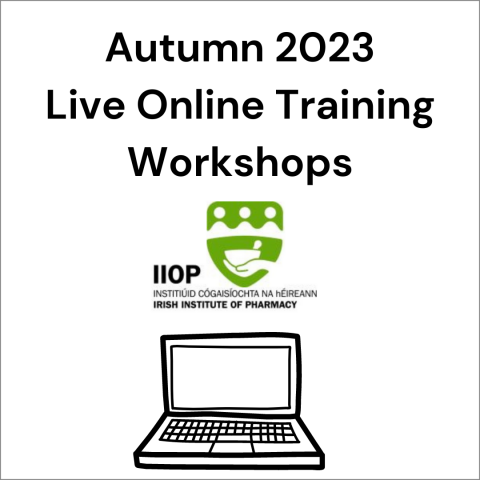 We are delighted to announce the following live online training programmes for Autumn/Winter 2023!
Download a copy of our schedule here.
Mentorship Skills for Pharmacists
Dates and times:
Three evening sessions from 7pm to 9pm
28th September, 5th October and 12th October
Facilitated by Kingstown College, the aim of the training programme is to introduce pharmacists to recognised principles of mentorship and assist them to engage with examples and scenarios that will help them to implement these principles into their own practice. It would be particularly useful for pharmacists who have an interest in supporting colleagues and developing others. It would be anticipated that those participating in this programme would be open to initiating mentoring relationships within the profession as part of a formal mentoring programme in the future. The workshops are delivered online in three parts over three evenings from 7.00pm to 9.00pm.
Managing Conflict in Pharmacy Practice 
Date and time:
Thursday 21st September -  6.30pm to 9.15pm
The aim of the workshop is to provide training to pharmacists on conflict management (including de-escalation techniques) and to equip pharmacists with knowledge and tools to recognise and respond to conflict productively. The online workshops will be facilitated by Marcomm Training, an award-winning training consultancy with expertise in essential management skills development. 
Polypharmacy & Medication Review Workshop
Dates and times:
Workshop 1: Wednesday 6th of Septemer - 7.30pm to 9.00pm
Workshop 2: Tuesday 10th of October - 7.30pm to 9.00pm
Workshop 3: Thursday 9th of November - 7.30pm to 9.00pm
This workshop will focus on the more advanced aspects of the existing Polypharmacy and Medication Review eLearning resource, how to apply learning from this resource, and to develop and practice skills and behaviours.
On completion of this workshop, participants should be able to: 
Recognise appropriate and inappropriate polypharmacy 
Identify, prioritise, and plan to address medication issues among patients with polypharmacy as part of clinical medication review 
Collaborate with patients and healthcare professionals to address polypharmacy and medication issues in a shared-decision making process.
To book a place on any of these online workshops go to the All Courses & Events section of the IIOP website, and then select the "Live/Blended" resources tab. 
       *** Please note, spaces are limited for these workshops, we advise you to book your place early if you are interested!***