GDPR & Clinical Audit Information Session
GDPR & Clinical Audit Information Session
NOCA are delighted to announce that we will be hosting a GDPR & Clinical Audit Information Session on Monday 4th November 2019 from 10:00-12:30. This will take place in the O'Flanagan Lecture Theatre, RCSI, 123 St Stephen's Green.
This event will bring together stakeholders from across the Irish health service to answer any questions people may have in relation to GDPR and clinical audit. Leading experts will present and take part in a panel discussion where the audience will have the opportunity to have their questions in this area answered.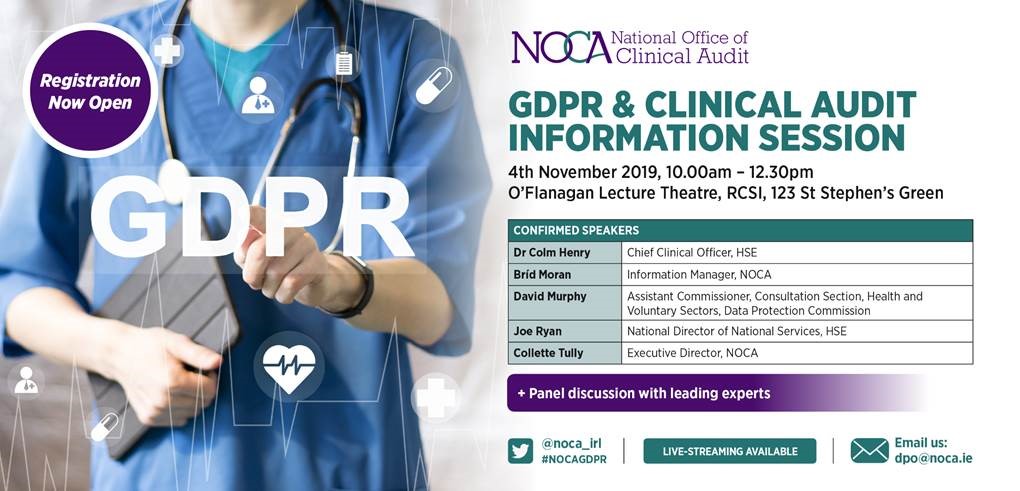 You can register to attend the event via the link here: https://www.surveymonkey.com/r/DMVXKNT. There is an optional short survey which can be completed once you have submitted your registration regarding your experiences of GDPR and clinical audit locally. There is also an opportunity to submit questions you would like answered at the event or in the Information Pack provided on the day.
We welcome you to share this event with your colleagues who you feel may have an interest in attending.
If you have any queries in relation to this event, please contact us atdpo@noca.ie
Image: